Climbing a Via Ferrata in the Dolomites is an experience of a lifetime. Whether you have no experience climbing or you're an expert there is a climbing route for you. And yes, it is safe and doable for almost anyone. If you search Via Ferrata experiences in Italy you might be a little intimidated but trust me you can climb a Via Ferrta during your hike in the Dolomites.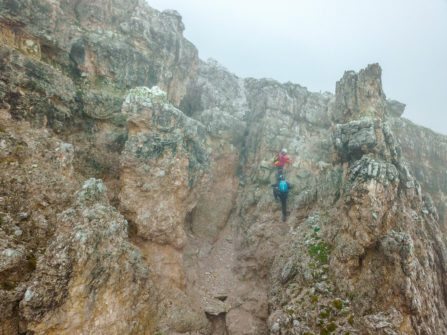 Experiencing a Via Ferrata in the Dolomites
What is a Via Ferrata? It means "iron road" because it is a climbing path lined with fixed iron cables, steps and even ladders. These fixed lines keep you safe as you clip into mountain with an expert guide leading you to the top. The difficulty of the Via Ferrata routes vary greatly. They can take a little over an over or over 8 hours to complete. However,  if this is your first time you will be on one of the easier climbing routes.
History of the Italian Via Ferrata
These iron paths were built in WWI to help navigate through the mountains. Today they are safe to climb and are an exhilarating way to experience the Dolomites. The iron cables, steps, bridges, and ladders have been updated since the days of WWI  and I highly recommend experiencing one of these historic climbing routes.
What to Expect on the Via Ferrata
The day I experienced my first Via Ferrata in Italy started with a regular hike. The weather was cold and very foggy but our guides decided it was safe to make an attempt so we continued the hike to the start of the route.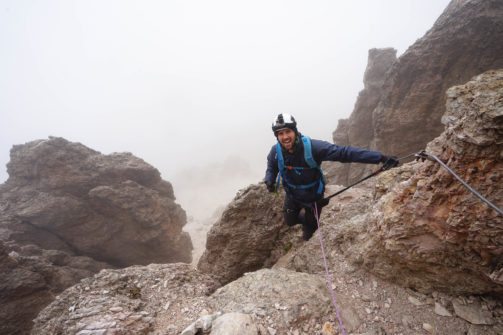 The guides top priority is safety. After a thorough safety demonstration it is time to climb. The climbing path varies from simply stepping up boulders to actually climbing up fairly steep terrain. You will need to trust your ropes and use your legs and arms to make your way up the side of the mountain. The clip-in points are designed to make sure you won't fall far if you miss a step and keep you safe. Our group of climbers ranged in age from 30 to 50+ and everyone was able to attempt this climb even with no experience climbing at all.
Overall Via Ferrata Experience
I don't love heights and have no experience climbing but I couldn't pass up the opportunity to expereince a Via Ferrata in the Dolomites. The climb wasn't as physically challenging as I expected and the iron pathway provides confidence in the climb. The expert guides were there every step of the way to assist and help you get past challenging steps and passages. Overall, I would recommend giving the Via Ferrata a chance. It is a great way to break up your daily hike in the Dolomites and experience something amazing.
More Info About Hiking the Dolomites
Video from Climbing the Via Ferrata in Italy