Delta continues to lead the way among airlines and technology in the air. They recently expanded their already large fleet of Wi-Fi equipped planes to all of their shuttle flights. Delta already operates the world's largest Wi-Fi fleet and will have over 800 aircraft equipped by this summer.
"Wi-Fi offers travelers the flexibility and tools to stay connected at 30,000 feet, enabling them to send email or finish a presentation before they reach their destination," said Gail Grimmett, Delta's senior vice president – New York. "We are thrilled that Wi-Fi is now available to our Delta Shuttle customers as it's a perfect complement to other Shuttle amenities including free morning coffee and newspapers."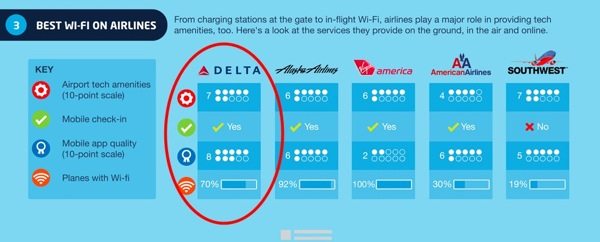 Don't forget my post on how to hack inflight wifi to save a little money (one of my favorite hacks).
Delta is also a tech leader on the ground. They have upgraded around 20 of their airport charging stations around the US. Charging stations are great because outlets can be hard to come by in airports. Usually once occupied it is for a full recharge of a gadget and you likely won't get much of a chance to recharge your own. They even have USB ports built in to the charging station.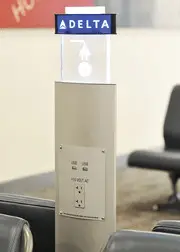 Delta's mobile app is also the best any airline has to offer. It allows you to do more than any other airline's app. For example, you can track your checked baggage just by scanning your bag tag. You can't book new flights but that is what they Kayak app is for. You can view your upcoming trips and add them to your calendar though.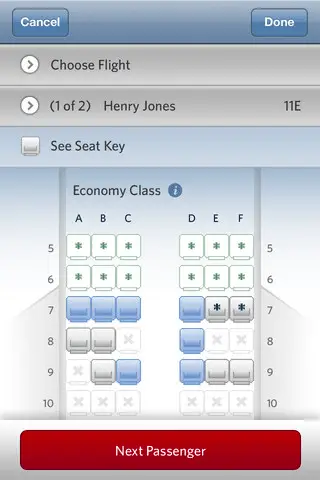 Delta also dominates the social media world. Their presence on facebook and twitter destroys the competition, You can book a flight right from their facebook page or ask @deltaassist a question on twitter. They are great and listening to their passengers and will offer tips along the way and quick to offer assistance.