ThinkGeek has a cheap alternative to many of those backup batteries out there that will charge two devices at once. Now it won't charge your laptop but it will charge your phone and tablet at the same time along with a lot of other devices.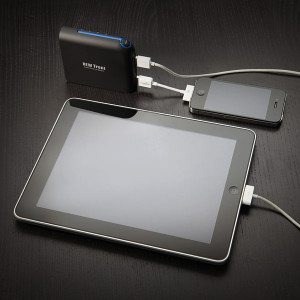 According to ThinkGeek it is compatible with the following:
iPhone (3G, 3GS, 4, 4S)
iPad, iPad2
iPod Touch, Nano, Classic
Android
Blackberry
Other Stuff (Kindle, Nintendo DS, Sony PSP, and many more – Standard USB charging cable required)
It will give you an extra 50 hours of movie time for iPhone, iPod touch or 17 hours movie time for iPad 2.
Other things it comes with:
Retractable USB cable included
No iPhone/iPad adapter is included because it works with the one you already have
Rubberized black finish
Batteries: Lithium ion (plug in to recharge)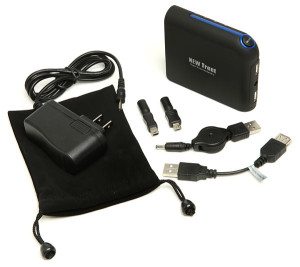 This is great for long flights where no outlet is available aka almost all economy seating.  This won't replace a HyperMac for your laptop but is great for iPads and phones.
[xrr rating=4/5]
Buy it here for $61.99.