The airplane graveyard of Bangkok is one of the city's more unusual attractions. It won't be found in most guidebooks but that doesn't mean you shouldn't plan a visit to this quirky spot in Bangkok. I haven't seen many photos from the airplane graveyard but as someone that loves planes and exploring abandoned places this seemed like a great way to spend an afternoon in Bangkok and see what this place had to offer.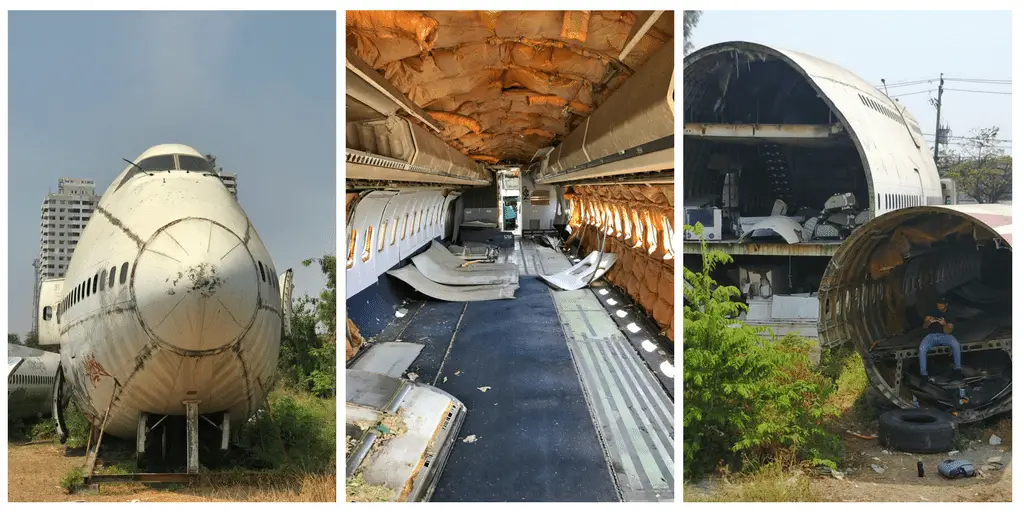 Exploring Bangkok's Airplane Graveyard
The airplane graveyard of Bangkok sits on private property but that doesn't mean you can't get inside to explore the planes. This is not a regular tourist attraction and the gates will be locked. However, this isn't to keep you out, it is to make sure you offer a nice tip to the local residents.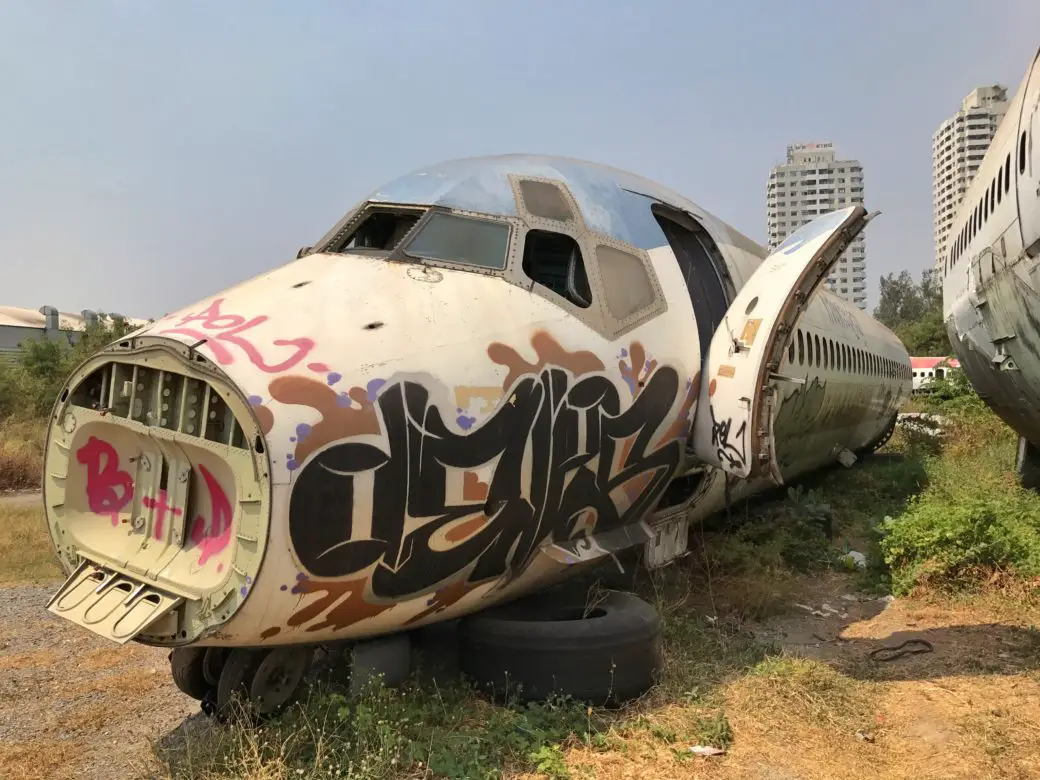 There is nobody there waiting at the gate for you to pay a set price to get in and you will need to get the attention from someone inside to unlock the gate for a fee. Since 2010 the price has ranged from 100 Baht all the way up to 600 Baht to get inside. I think the locals who realized visitors are happy to pay closer to Baht and they are right. Anyone who is willing to venture to an airplane graveyard is probably curious enough to hand over almost $20 USD.
600 Baht is expensive for Thailand but you are helping support the people who call the property home. Without them you wouldn't be able to enter this place without trespassing.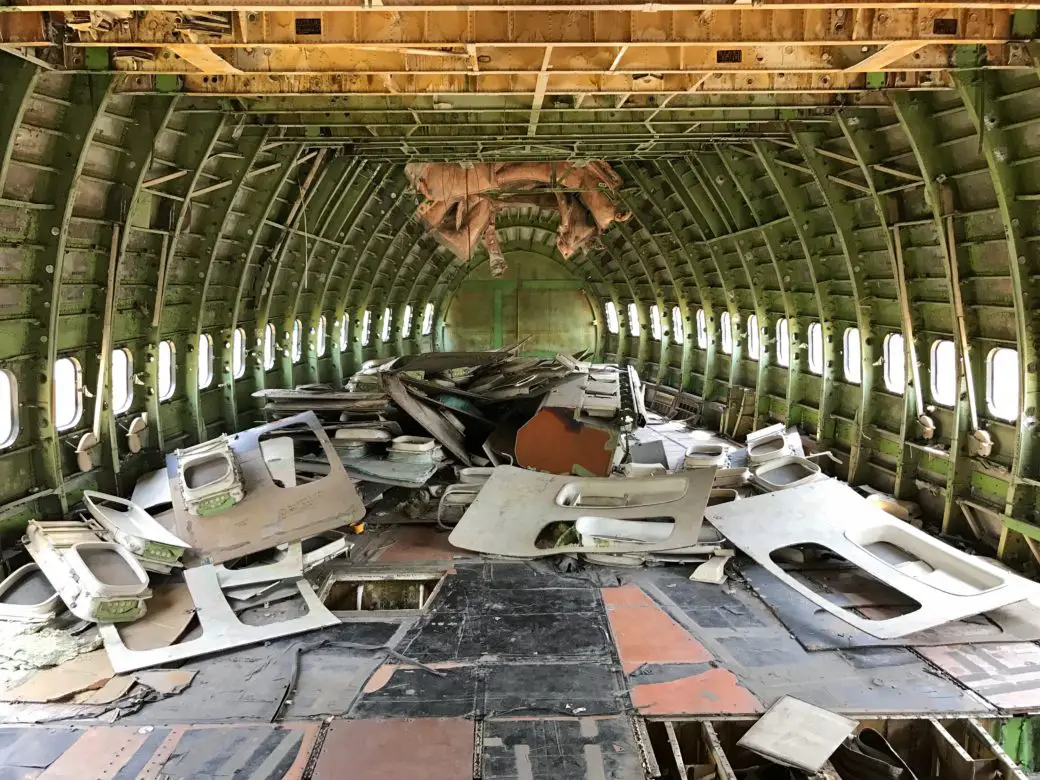 It is important to keep in mind this is private property and the home of more than one Thai family. If you choose to negotiate the entrance fee that is up to you but I'd recommend giving them what they ask for at the time. There is a time and place to negotiate but I don't feel this is one of them. I would pay 600 Baht every time to enter a place as unusual as this.
Entrance to the Bangkok Airplane Graveyard
It is actually  home for 2-3 Thai families that make money from scrapping the planes and have used them to build their homes on the private property. They are very friendly and use the derelict airplane bodies to earn a living and even created their homes from pieces of them. Their homes are located on the left when you walk inside and the scrapped planes for you to explore make up the rest of the property.
Below is the area you are free to climb around on and take photos of. Their homes are located out of the photo directly above the pathway on the top.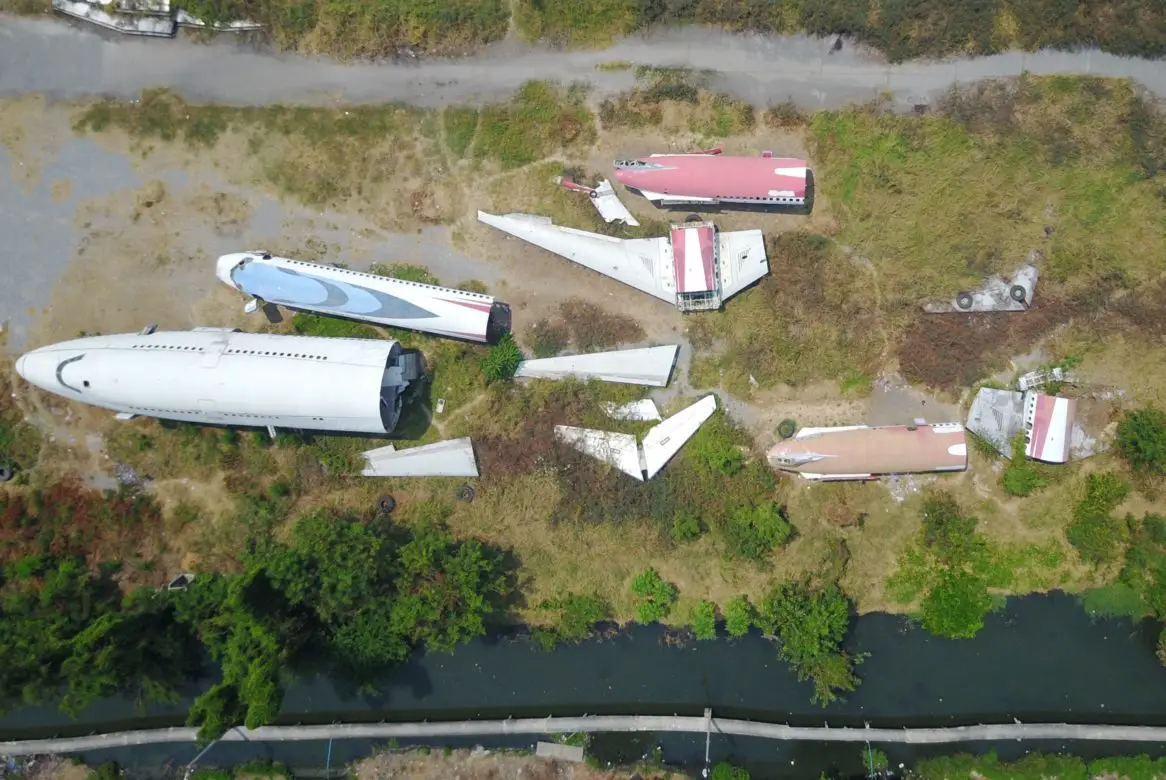 I handed the 7-year-old airplane graveyard "security guard" 1,000 Baht (that's was the smallest note I had on me) and he returned with change to make my entrance fee 600 Baht. When I asked him the price he held up 6 fingers. I don't speak Thai and he didn't speak English but it was clear he wanted 600 Baht to let me in. This is what I expected to pay and was happy to hand it over for access to his family's property.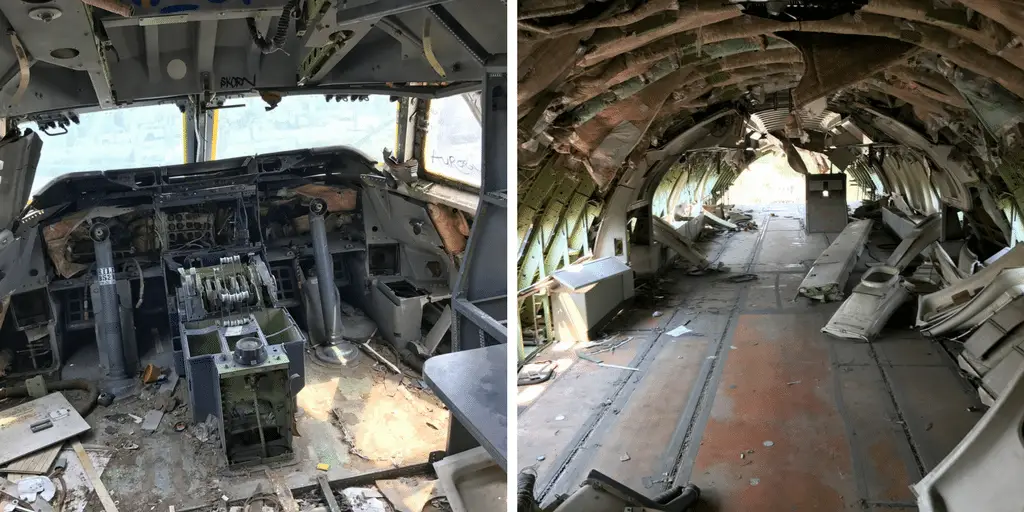 The airplane graveyard was now mine to explore for as long as I pleased. The best part was nobody else was there to bother me. I would recommend bringing a friend to take photos with you but luckily I had my drone to to assist me.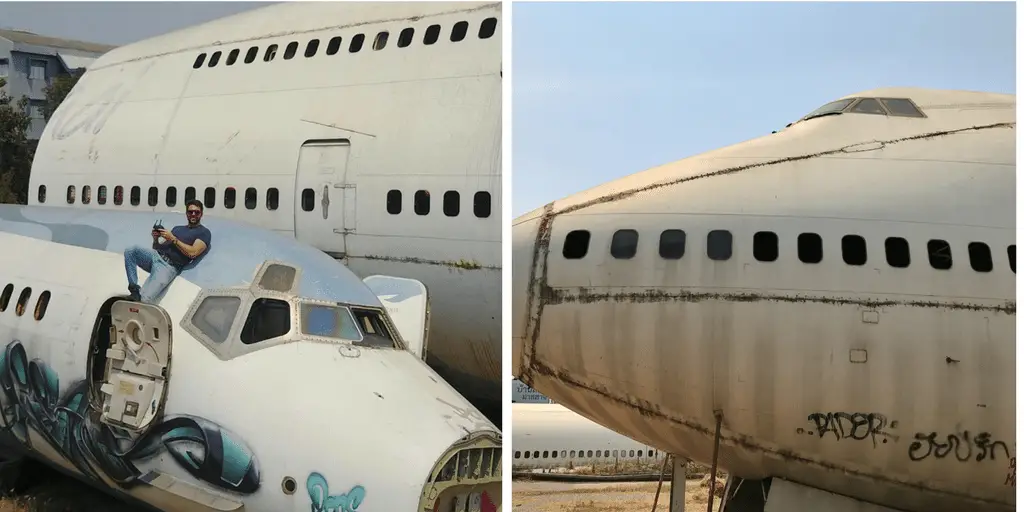 What Drone I Use: DJI Mavic Pro
Exploring Bangkok's Airplane Graveyard
When you arrive at the airplane graveyard you'll find an abandoned 747 and two smaller MD-82 planes sitting in large pieces. Some of these were scrapped for money and some were made into homes for the families that live on the property.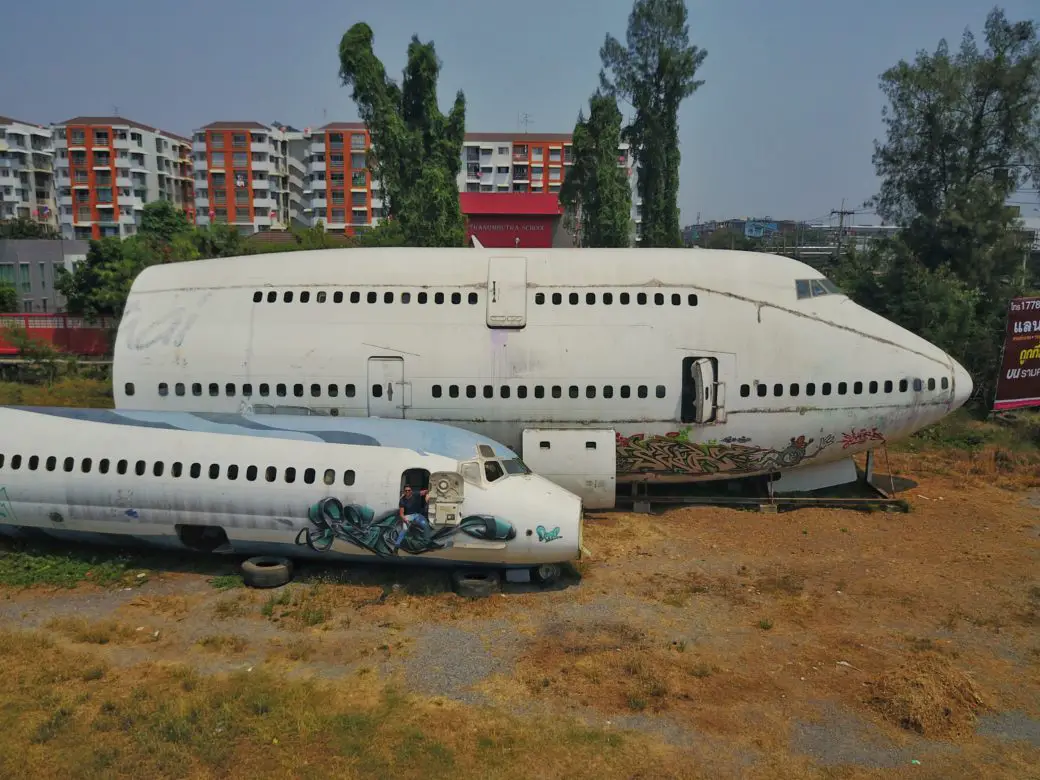 It is not entirely known what will be there on a given day or how they got there but many have said the property is owned by a Thai man who sells the parts of old planes for scraps. The families on the property have an agreement with the land owner which makes this a mutually beneficial relationship for them.
Once you pay the entrance fee you are free to explore the property for as long as you can take the hot Thai sun. There is nobody to tell you what you can and cannot do so use your best judgement when climbing around these planes.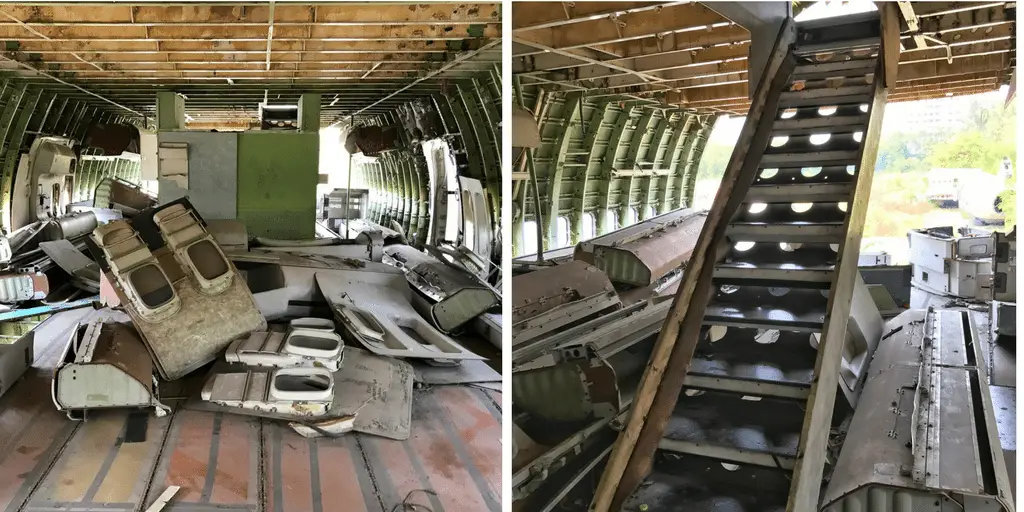 Climb inside and make your way to the cockpits and explore the inside of a old 747. How long you stay and what you do is completely your choice. There is no time limit inside the property and I spent around 90 minutes there before heading back to the city. One of the men from the family living onsite came to join me and offered to take photos while I was there. The entire family was very friendly. They may not have a lot of visitors each day but they are happy to welcome you to see the old planes.
Where is the Airplane Graveyard in Bangkok?
The airplane graveyard is not far from central Bangkok. You can expect a taxi to take 30-45 minutes (possibly 1 hour with traffic) from city center or your hotel depending on where you are coming from. Tell your driver it is on Ramkhamhaeng Road or simply take an Uber to the exact position if you don't feel comfortable navigating your way out there in a taxi. The location of "Airplane Graveyard" is actually right there on Google Maps.
As you approach the airport graveyard you will be able to see if from the street. There is small area to pullover in front of the gate and entrance to the airplane graveyard.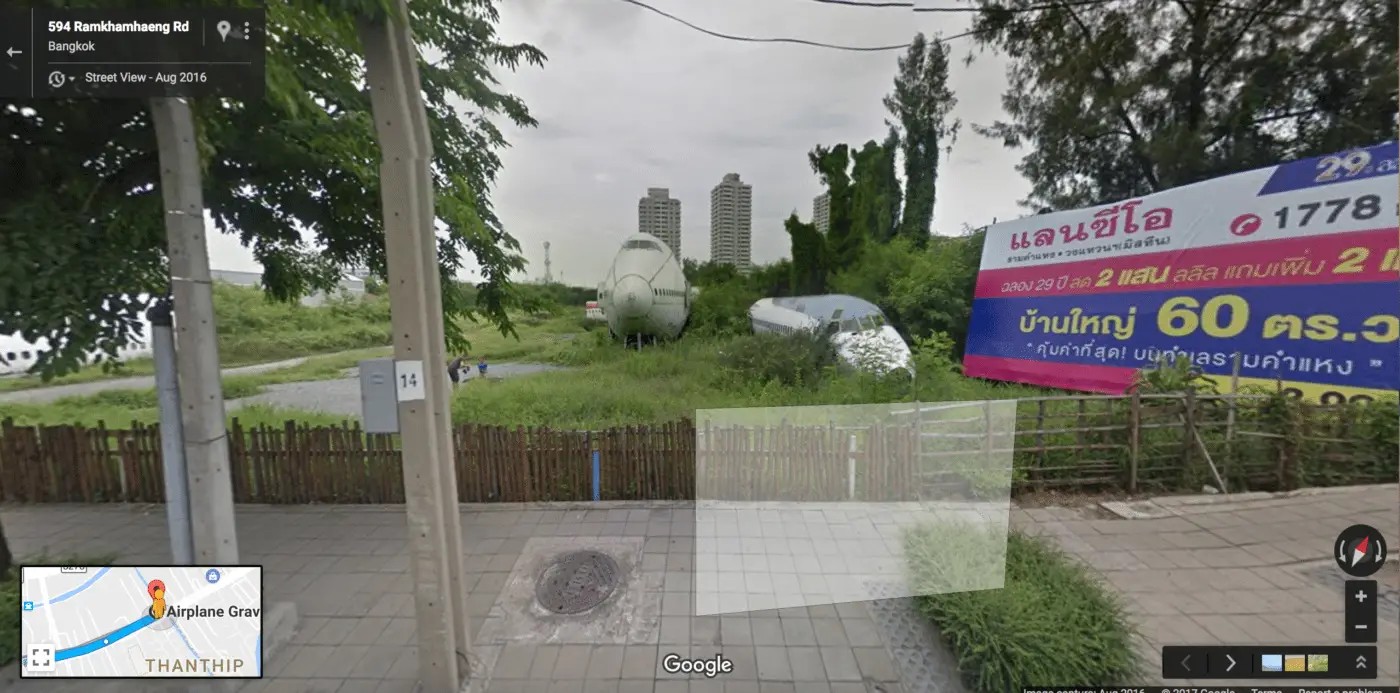 I chose to take an Uber from my Airbnb since it was only 25 minutes away from where I was staying and Uber is pretty cheap in Bangkok. However, my ride home was gridlocked and took almost an hour. Keep in mind the time of day for your visit if traffic and timing are a concern for you.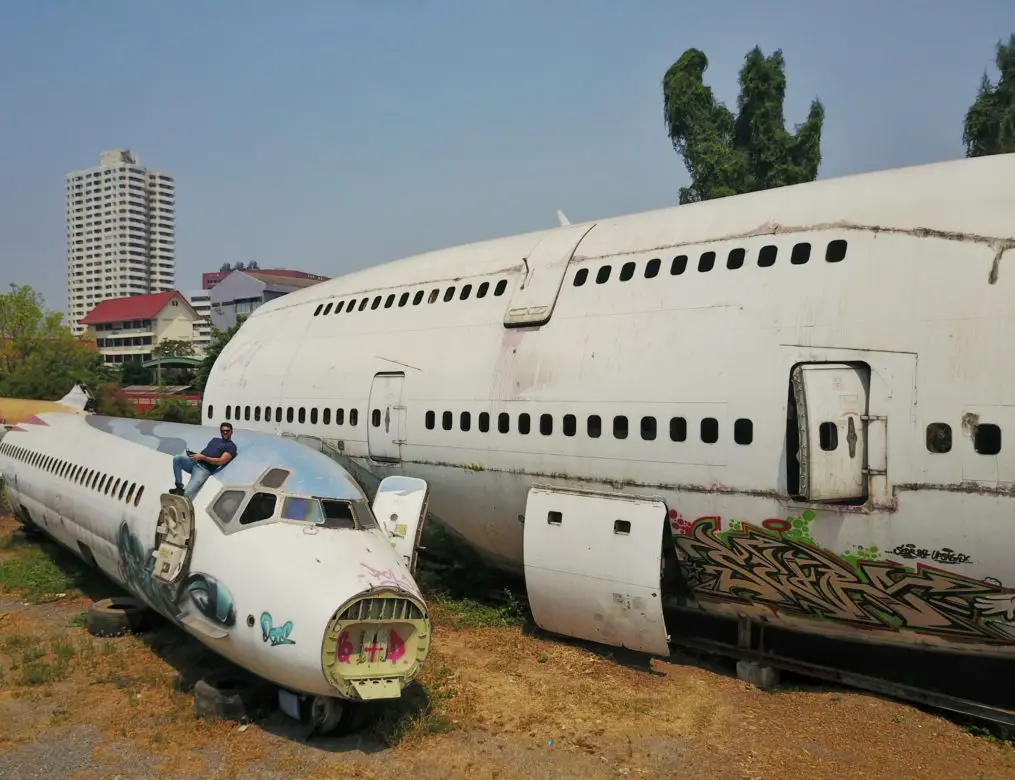 Video from the Airplane Graveyard
I wouldn't recommend flying your drone in a city but since I was on private property I decided to see what the airplane graveyard of Bangkok looked like from above. Check out this little video I shot with my drone from my experience there.
Where I stayed in Bangkok: Airbnb offers great and cheap places to stay in Bangkok
More info about Thailand: Thailand Tourism
My Favorite Travel Gear
I carry a 20 liter day pack from Peak Design that holds 2 cameras, a drone, back up batteries and other daily travel essentials. If you're curious about my favorite travel gear you can check them out below.