Take a look at some of my favorite bags, gadgets and must haves for any traveler.
TripHackr Traveler Gift Guide 2011
Tom Bihn Aeronaut Maximum Carry-On

This bag is awesome. First of all, it is a maximum level carry-on bag. Which means it is the biggest bag you can fit on a plane. The best part about this bag is it can be carried as a briefcase, shoulder bag, or worn as a backpack. I recently used this to carry 2 weeks worth of clothes no problem. The price is high but the durability is second to none. They last a lifetime. Be sure to get the shoulder strap ($30). Yes, that is a lot but once I used it I understood. The strap is incredibly comfortable. This will be the last bag you ever buy for yourself or one lucky friend or family member this year.
Get it here: Tom Bihn Aeronaut
Evolution Neck Pillow
I have said it before and will say it again. This pillow is awesome. It actually holds you neck up and is very comfortable. I tested it out on my most recent 14 hour flight and I slept around 8 hrs in economy no problem. It definitely makes the flight a little better.
The ultimate in portability and for more useful than an iPad for travelers who like to do more than play a giant game of angry birds. This is an expensive gift but this is as light as it gets for an amazing machine. I have the 11″ and would recommend that over the 13″ if you have a second laptop at home. But if it is your only laptop you may want to consider the 13″ model.
Do not buy someone a MacBook Pro this year. The refresh is overdue and we should see a brand new MacBook Pro in 2012 (early).
Micro Flash Drive
I am sure you already have a USB drive in your bag but one I really like is the micro USB. Just pop it in your USB port and forget about it. This is great for those who travel with laptops with limited storage space like a MacBook Air or simply want to back up there photos easily every day.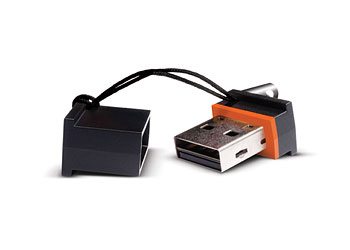 Keychain Flash Drive
This is obvious but the key difference here is its on your keychain at all times. This is more useful for daily use or business travel. Typically I do not carry my keys with my internationally or at least don't take them out of my bag. You will pay a little more for the cool design from LaCie below but I really like the style. A cheap alternative is simply to attach a regular flash drive to your keychain.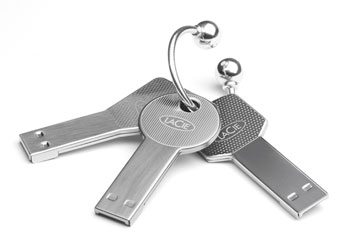 Mini Surge Protector/Power Splitter
This is a must for international travelers. You will only need to carry one adaptor to charge all your gadgets which saves space. You can also charge USB based charging devices at the same time. I love this thing and always take it with me. I like the Mini Surge Protector from Belkin the best. Belkin is selling this for $24.99 but I found it for $12.00 on Amazon so check there first.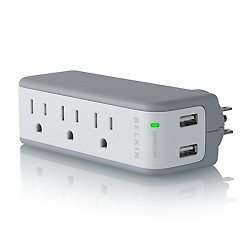 Backup Battery
Now these are cheap and aren't always necessary but they are great to have in the bag when your battery dies. Check out the HyperJuice Battery which can charge your laptop, smartphone, or other gadgets.
Features
Use your MacBook for up to 20 hours1
Compatible with all models of Apple MacBook / MacBook Pro / MacBook Air
Additional high power 10W (5V/2.1A max) USB port charges any USB device (e.g. iPad/iPhone/iPod)      simultaneously
High capacity 60-Watt-hour lithium ion battery (compared to MacBook Air 37Wh battery)
Extend iPad battery life by up to additional 24 hours
Fully recharge the iPhone up to 14 times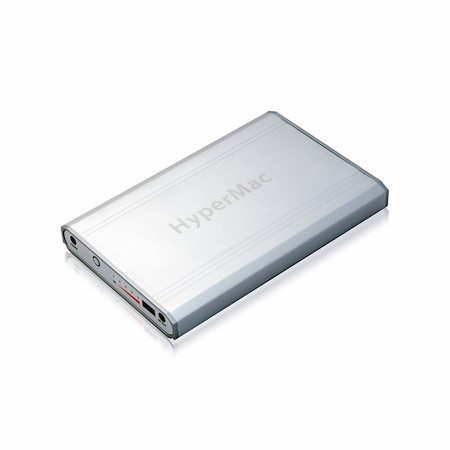 Micro Backup Battery
If the first backup battery was a little to pricey for you check out this option from HyperJuice. Its more compact, a lot cheaper and will charge your iPad and iPhone.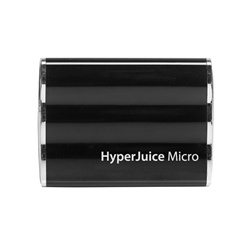 Mini USB Cables
Long USB cables are completely worthless for traveling and just make a tangled mess in your backpack. Get some mini cables to save space. Griffin offers them for $24.99 here but you can get them cheaper on Amazon. Be careful with the cheap Chinese knock-offs on eBay. I have tried them and they have worked well but they didn't have the longest lifespan.

Mobile Hotspot
This is really useful for domestic travel. A 4G hotspot can be an awesome at airports or even hotels that charge or have terrible wi-fi. Of course you will have to be a regular traveler to have a need for this but it's a very useful one. If your smartphone has the option to become a hotspot (as many do) that is also a great option and less costly.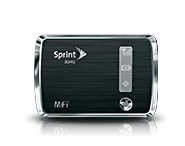 Headphone Splitter
If you are traveling with your girlfriend/boyfriend or spouse you may only take one laptop. If you plan to watch movies on the plane and are able to agree on which one to watch this is a great little adaptor to have. One headphone jack, 2 sets or headphones and you can both enjoy a movie. Best part best its only $1.48.
Noise Canceling Headphones
I tried to leave this off the list but I couldn't because they are too important for flights. Listening to a baby screaming or a loud neighbor on a plane is about the worst 3 hrs I can think of. I have tried Bose Noise Canceling Headphones and Dre Beats, to name a couple. I like them both but the choice it up to you since they will both will do a great job drowning out the rest of the passengers. Cheap option? Earplugs.
Grid-It Organizer
Loose USB cords and small gadgets can be tough to keep organized in your bag which is why I slide this in the back of my backpack when carrying my essentials. They are great for keeping everything in one place and you can just take the whole thing out when you get to your destination and have everything you need right in front of you. Not only is is good for flash drives but it will hold your external hard drive, camera, iPod, and anything else you want to put on it. There are many sizes, colors, and types to choose from.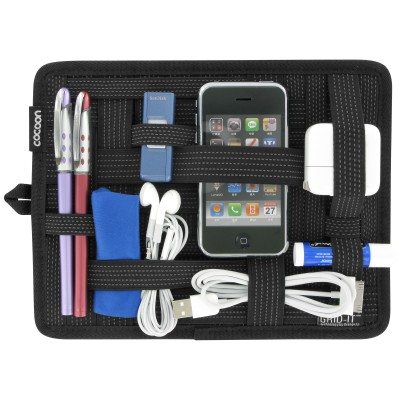 ThinkGeek has a cheap alternative to many of those backup batteries out there that will charge two devices at once. Now it won't charge your laptop but it will charge your phone and tablet at the same time along with a lot of other devices.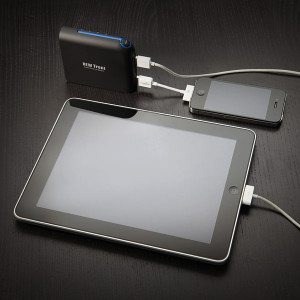 According to ThinkGeek it is compatible with the following:
iPhone (3G, 3GS, 4, 4S)
iPad, iPad2
iPod Touch, Nano, Classic
Android
Blackberry
Other Stuff (Kindle, Nintendo DS, Sony PSP, and many more – Standard USB charging cable required)
It will give you an extra 50 hours of movie time for iPhone, iPod touch or 17 hours movie time for iPad 2.
Other things it comes with:
Retractable USB cable included
No iPhone/iPad adapter is included because it works with the one you already have
Rubberized black finish
Batteries: Lithium ion (plug in to recharge)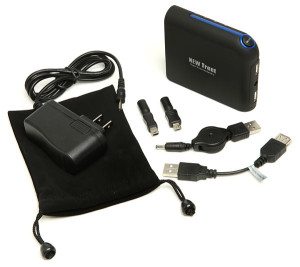 Booq Vyper
MacBook Air Sleeve/Case for 11″ or 13″ (I have the 11″ and love it for travel)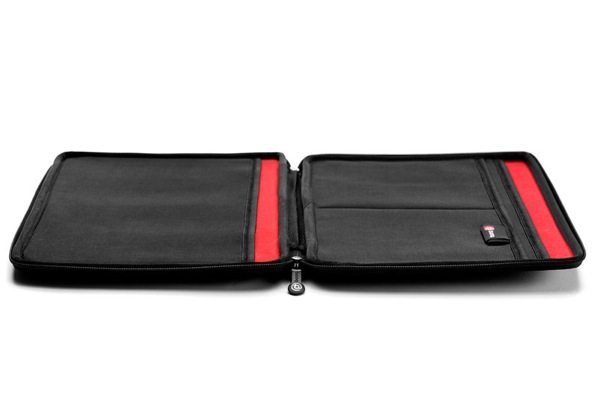 I actually carry the 11″ Air but since that is a much less popular model I have listed the 13″ and there is case for each.
If you want to read some more reviews on this case and see what else is out there check out these forums from MacRumors.
Best Sleeve/Case for New 13″ MBA
Post Your favorite Macbook Air Case!!
Pros:
Durability
The case does not scratch laptop
Full enclosure and protection from elements
Does not add too much size to laptop
Extra storage for external hard drives inside or passport
No need to take laptop out at security checkpoints
Cons:
It will not fit your magsafe adapter well (but no sleeve really will)
[xrr rating=5/5]
Booq Vyper
sells it for $49.95
Or get it for less on Amazon like I did
Bonus Tip
Remember to do all your purchasing(when possible) through an airlines shopping portal to earn miles for every gift you give. See the post on how to get started here.