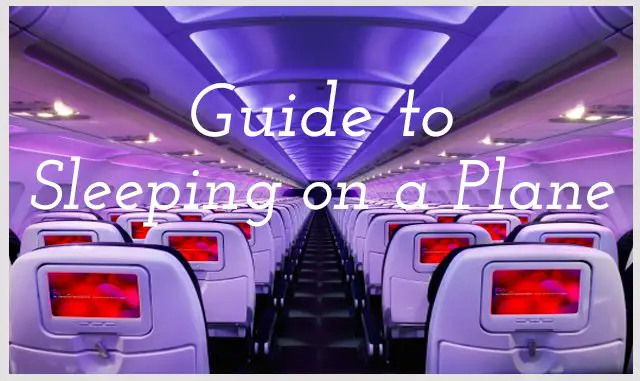 Sleeping on a plane can be difficult but is often necessary for overnight flights, adjusting to time changes, or simply taking the red eye. However, with full planes, cramped quarters, and limited seating it is not an easy task. Luckily there are some ways to improve your flying experience and make sleeping during a flight much more pleasant.
How to Book Your Seat on a Plane
Not all economy seats were created equal. Comfort on a plane starts with your seat.  Is it in the aisle, window, exit row, close to the bathroom, or the bulkhead? Every seat has its ups and downs and it is up for you to decide what you prefer. Doing some pre-flight research can go alone way. Finding the best seat starts at home on your computer.
When you are buying a flight they will ask you to select a seat during the ticketing process. Most airlines are now charging for the "premium" economy seats. These seats cost a little extra and are usually in the bulkhead row, an exit row, or even simply an aisle seat. The bulkhead row is almost never available anyway since it's probably the best seat on the plane.
What I have found for most domestic flights is most people don't upgrade to these "premium seats" when they are buying their flights online. This means when you check-in at the airport you can get them for free. If you have elite status (even the lowest tier) you may be able to select premium seats at no additional cost when purchasing your flight. Normally I wouldn't buy one of these seats but if it is a popular route then I might spend a little extra and just pay for a better seat knowing a seat switch at the gate is unlikely. On Delta where I have a higher status I am allowed to select economy comfort at no cost so there are benefits to being loyal to an airline if it is convenient for you.
How to Use Seat Alerts

Using seat alerts to find the best seat on a plane is one of the smartest ways to move your seat at little or no cost. Sleeping is our number one priority so select the type of seat you prefer. I prefer the aisle at 6'2″ but the window does provide a great place to rest your head. However, climbing over two people to run to the restroom is not ideal either. I'll leave the window vs aisle debate up to you. My favorite seat on the plane is the bulkhead-aisle seat in economy. It's just as good as first class in my book. All I care about is the leg room.
Expertflyer will give travelers the information they need to get the best possible seat on any flight. They offer a free feature to travelers who simply need to change their seat or are trying to book a sold out flight. To use their best feature, called "Seat Alerts", you must create an account for free and set up the alert which will notify you when the seat becomes available.
So if you prefer a window seat, aisle seat, exit row seats, or need 2 seats next to each other just simply set up the alert. They will notify you and allow you to reserve it when your seat is available.
The free feature is great and allows one Seat Alert at a time. You can purchase additional alerts for $0.99 and if you are already a paid subscriber at ExpertFlyer you will get multiple alerts at once. There is even a free 5-day trial so its worth a shot.
Follow this link to get started.
Use Seat Guru
If you haven't been using Seat Guru to choose your seats when you are booking your flight you should start now. As I have said before, not all economy seats were created equal so by using Seat Guru it could make a big difference. For example, all of the economy aisle seats are not the same. Some might not recline, some may not have a personal TV, or some may be next to the bathroom. Seat Guru will tell you which aisle seat is best and which to avoid.
It is simple to use and will show you the seating layout of your flight with red, yellow, and green seats indicating how nice the seat is. Obviously, you want the green seats. You may be surprised that not every exit row is a green or even yellow seat and may find that some seats don't even recline. So check it out for all future flights before you pick your seat.
How to use it

Simply pick your airline from a drop down and type in the flight number. From there you will be prompted to select which type of plane it is because more than one flight may carry the flight number. Just check your flight details to see what type of plane you are flying and select it. From there you will be presented with a full layout of the plane.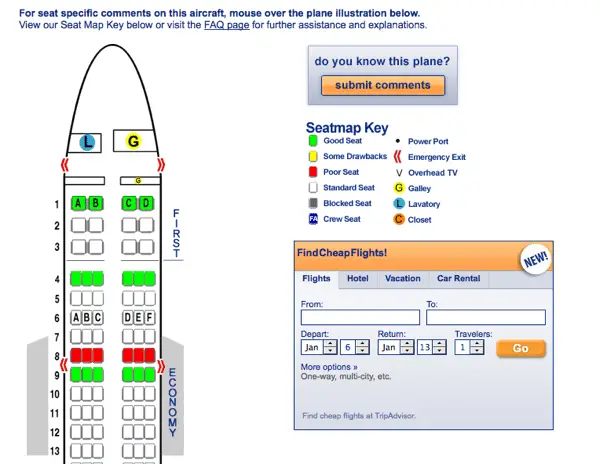 The Seatmap Key will help you make the best selection. It will also tell you which amenities your flight includes such as wifi, food, AC Power, audio and video. All things that are handy in making a flight and seat selection.

Lastly, if the you want is not available combine the knowledge you learned from Seat Guru and take it to Expert Flyer who will alert you when that seat you want is available.
At the Airport
Sometimes we can't get what we want before we get to the airport and there are a few options left. Simply ask for the best seat on arrival. This may just be an aisle seat, or a seat away from the bathroom, but anything helps when it improves your flying experience.
Checking-in with the self check-in is fastest but you won't be able to get this upgrade for free at the self check-in kiosk. So if you opt for a human you may get rewarded. If the line is too long just skip this step and head to your gate where you can try again.  Most airlines will not have an agent present until 1 hr before your flight at the gate. So be patient and get over there as soon as they are getting set-up. Simply show them your boarding pass and ask them if any bulkhead rows or exit rows are available. I find I get moved to exit rows pretty frequently and they make a big difference. A middle exit row seat isn't even that bad since you can usually exit your seat without making anyone get up. Note that not all exit rows recline but I will take leg room over a reclining seat every time.
Sleeping on the Plane
Once you have found the perfect seat it is time to sleep on the plane. This again starts at home and being prepared. I always carry-on when possible and one carry-on bag is always a backpack that I stuff under the seat in front of me. This includes my sleeping gear. I don't care how stupid you think it looks because when you arrive in a new city refreshed and rested it doesn't matter.
My Sleeping Gear
Yeah, I wear one of these so what! This is Amazon's greatest gift to me because the airlines love to keep the lights on in the cabin for no reason and people in the window seats like to keep their window shades open the whole flight! I am all for looking out the window at unique sites but when the sun is shining insides the cabin just shut the shade and do everyone a favor.
I don't wear this mask all the time but when I have 7+ hr flights and I need to get some rest it is a great way to block out the world around you.
Ear Plugs
The sleeping mask I suggested does come with one pair but these things love to fall out while you are wearing them. These are essential and cheap so pack at least a dozen of them. They block out the pilot, babies, loud talkers, and engine noise. This and the eye-mask should get the job done for most people.
The sleeping mask I suggested does come with one pair but these things love to fall out while you are wearing them. These are essential and cheap so pack at least a dozen of them. They block out the pilot, babies, loud talkers, and engine noise. This and the eye-mask should get the job done for most people.
Why are they awesome?
When I was flying from Siem Reap to Saigon I was on the loudest flight of my life. Luckily I had multiple pairs of ear plugs and I wasn't even planning to sleep. I gave a fellow passenger, who looked like she was equally as annoyed as me, a pair of ear plugs and I think that made her day. They can really be a lifesaver. If you often stay in hostels, or city hotels facing the street these are great to use then too. They are cheap, small, and easy to carry.
Neck Pillow
I will be the first to admit these usually suck. I had tried many and gave up on them for years until I gave this memory foam pillow a shot. The problem is these take up valuable space in my backpack and after the flight it is just wasted space. But this pillow is sturdy on the sides and actually supports my head. It compacts itself into the pouch but is still on the large side for my tastes. The tradeoff is comfort and I do take this on most long-haul flights overseas. The pouch has just become me sleep gear bag. I stuff the eye-mask and ear-plugs in there as well.
Alternative to a neck pillow is simply the window seat and a sweatshirt. If you hate neck pillows this may change your mind but if traveling light is your number one objective this may not be for you. I have found it useful on long train rides and bus rides as well. It makes a nice pillow even when not wrapped around your neck.
Blanket or Sweatshirt
Most flights tend to be on the cold side which is nice when it is a full flight but bad when you are in shorts and a t-shirt. Some airlines that haven't decided to completely make us hate them provide blankets for free but some do charge for the "luxury" of not being cold. If that is the case this small blanket does the job and so does simply packing an extra sweatshirt. Even if you are flying to a tropical destination a lightweight sweatshirt is nice to have for cool nights and flights. I always fly in a lightweight sweatshirt for this reason.
Going All-in
If you really want to spoil yourself and have the room to spare just go all-in and get this:
Noise Cancelling Headphones
These headphones are a pretty common site these days on flights and for good reason. They do a great job blocking the cabin noise. The one thing I do not like about them is if you need to rest your head on something to sleep the large over-ear headphone makes that pretty unpleasant.
An alternative or addition would be to bring earphones. Personally, I carry Bose ear buds which sounds great and are a lot smaller.
Sleep Machine App for iPhone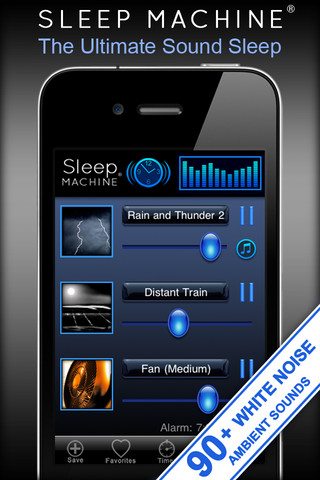 This is a great app if you like a little background noise to fall asleep. Sounds include rain, thunder, a fan, train, running water, and more.
Check it out on iTunes.
Sleeping Aids
Now some might call this cheating but sleeping on a plane is not easy for everyone. Sleeping aids can be very helpful for passing the time or simply getting some much needed sleep before you arrive.
I do not take these on flights shorter than seven hours. They knock me out and you don't want them still in effect when you arrive. Make sure you give yourself plenty of time and only take them on long-haul flights.
Overall
When every flight seems to be full these days and economy seats are shrinking we need every advantage we can get. So remember being comfortable on a plane starts with finding the ideal seat and ends with being comfortable. Planning starts at home. Bring what you need with you to you seat, lay back, and enjoy the flight.