The debate of whether to recline or not to recline will never end but you can end it with one purchase. The Knee Defender. This little device will prevent the person in front of you from reclining their seat into your personal space. Personally, I do not recline my seat anyway on domestic flights.
I am about 6'3″ and I know how terrible it is when my knees get crunched. I think there are times when reclining is ok such as a longhaul overnight flight or if there is a small child behind you but I never recline when I see an average or tall person behind me and I expect the same from fellow passengers.
Their site claims the FAA has no problems with it. Since your tray table must be down for use it can only be used during take-off and landing.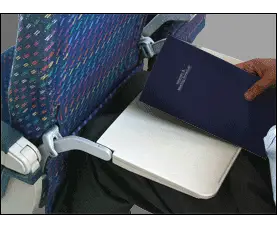 You can see the knee defenders attach on each side of the tray table. It blends well with the arms so there is less chance someone will notice. It seems harmless really but many passengers feel it is their right to recline their seat.
The debate about to recline or not to recline will never end unless airlines provide the passengers with more space.
According to Skift the majority of Americans are against the knee defender anyway.
If you are going to reline at least ask the passenger behind you first and recline gently.