Eating healthy is not difficult at home and at the very least you have the option to whatever you choose. On the road, however, it is completely different. During road trips you typically have to settle with a limited selection for meals. This can make eating healthy very difficult. For an extended cross-country road trip this becomes even more important so you do not have to fast food for every meal.
Luckily, there is the Eat Well Guide which maps out your driving route and shows you healthy options on the way to your destination. It offers over 25,000 healthy eating options from cafes, markets, stores, and food trucks.

Just enter your starting and end point of your road trip and click "submit." From there your driving route will be laid out and you will see it dotted with places to eat along the way.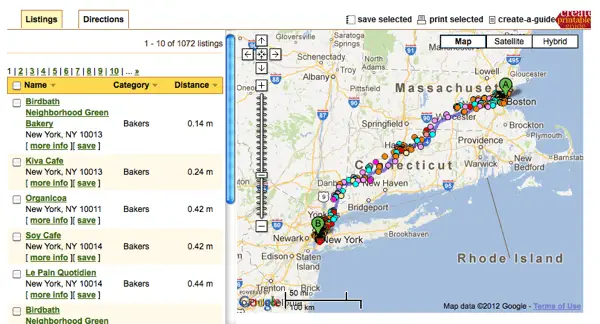 When I searched Boston to New York it delivered 1,072 options on the route alone. Of course, some of the healthier options may not be right off the exit ramp and may require a bit more travel time to accommodate them. But with this many options there shouldn't be any major travel delays.
Personally, I prefer to pack my own snacks for the drive which not only saves money but guarantees I have healthy options. But if you on a long road trip (not just Boston- NYC) you will likely need to stop off and take a break to eat. That is when the Eat Well Guide really comes in handy.
Check it out for yourself.