Airports are a terrible place to sleep and the there have been many times when I have had a long international layover, a flight cancellation, or a number of other unforeseen events where I simply need a power nap or extended rest. In most cases this means spreading out on some airport chairs or getting down on the floor to catch a nap. But thanks to the new trend of short-stay micro-hotels that is hopefully changing.
Luckily many airports are installing short-stay cabins which you can pay by the hour or per night. This are loosely modeled after Japanese capsule hotels and have only the essentials in their limited space inside. This is great if you don't want to leave the airport for a hotel when your layover is only 6 hours or so. If you are lucky enough to be in an airport that has these micro-hotels you will be able to catch up on some sleep without leaving the terminal. This trend is growing around the globe and below you can see the latest and best micro-hotels you may find in airports right now.
Yotel
The Yotel has been around for a while, since 2007, at London's Heathrow and expanded to Amsterdam's Schiphol in 2008.  It even expanded to New York as an efficient and simple non-airport hotel, only keeping the essentials.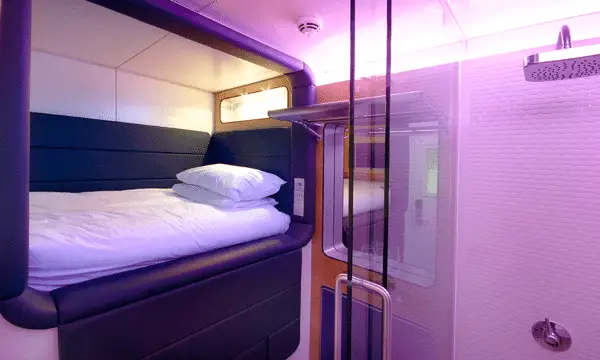 A typical Yotel at Heathrow. You can expect the cabins to run you about $39 USD for 4 hours and $93 for an overnight stay.
Below is the typical NYC Yotel. Located 2 blocks from Times Square it will run you $319/night. Not quite the same great deal as the airports. Hopefully more US airports offer Yotels soon.
They all come with free WiFi, workstations, beds, and great showers to help you relax or just get some work done peacefully.
Napcabs
Napcabs are a 4sqm self-service booth that operates out of Terminal 2 at Munich Airport. Currently there are only 6 booths but they plan to add more in the next few months. Their main purpose is to allow passengers to relax, re-energize, and just get away from the hectic airport. They are small but they are definitely your own little relaxation getaway.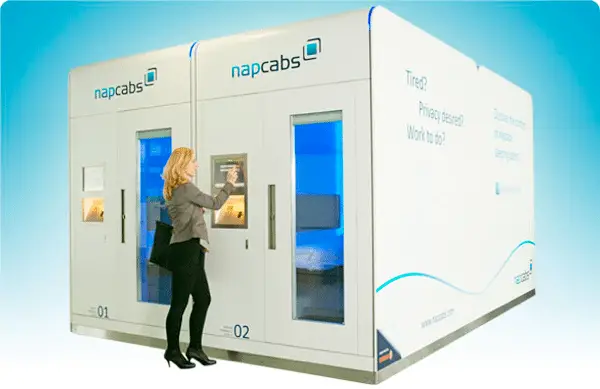 Terminal 2 at Munich Airport.
Inside there is ambient lighting to help you relax. They are doing well in Munich which is a great sign for us in the rest of the world who are hoping to enjoy the same relaxation at the airport.
Sleepbox
Sleepbox is pretty new and still looking to land itself in a lot more train stations and airports. It is also 4sqm and very affordable at just $15 USD per hour. You can book it for as little as 30 minutes at a time.
It provides quick escape from the crowd without wasting time searching for a hotel.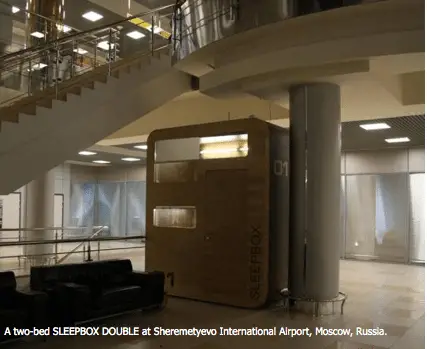 Example, of the stand-alone sleepbox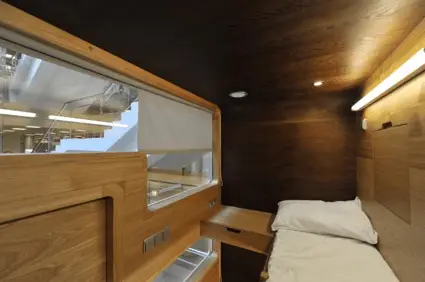 Minute Suites
I have mentioned Minute Suites in the past because they are the only US-based micro-hotel available to US passengers at this point. It is based in Atlanta's International Airport and expanded to Philadelphia just last year.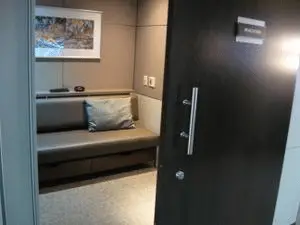 Hopefully Minute Suites will continue to expand across the country. The minimum 1-hour stay will run you $30 and every 15 minutes after will cost you $7.50 USD. It's not as cheap as it should be but it is a solid option.
SnoozeCube
The SnoozeCube can be found in Terminal 1 of the Dubai International Airport. If offers a soundproof room, bed, TV, and internet access (as most of these do). 1-hour will cost you just $16 USD which is a great deal when compared to the other options out there.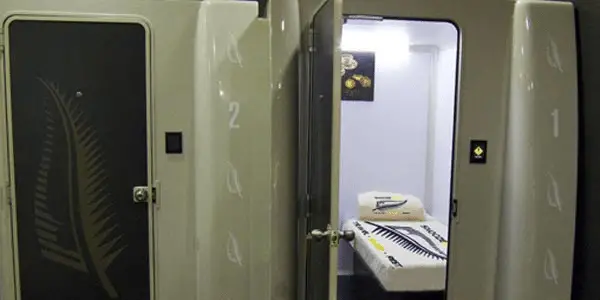 This is a trend that can save passengers money. When the alternative is a crappy hotel airport located off-site I will take this micro-hotel every time. In general all I need is a few hours sleep and checking-in to a hotel and getting to and from the airport just takes time away from resting. Hopefully these little pay-by-the-hour hotels continue to expand around the globe and the prices remain competitive.