Savvy travelers look beyond hotels and resorts to apartments and home rentals. They know this is the best way to experience a city or bring a long the whole family for a vacation. A vacation rental has many things hotels do not such as more space, kitchens, more bedrooms, laundry, and sometimes private pools. Vacation rentals are the best way to enjoy a vacation, in my opinion, but there are so many site out there to sort through such as HomeAway, AirBnB, FlipKey, and VRBO. Rentmix is your all in one vacation rental search engine and it looks great too.
To get started simply enter your destination,dates, type, and other details as needed on the homepage.

Rentmix will now pull results from many different rental sites and populate them on an easy to read map for you to sort through. Just as with Google maps you can zoom and drag all over the map to find specific house.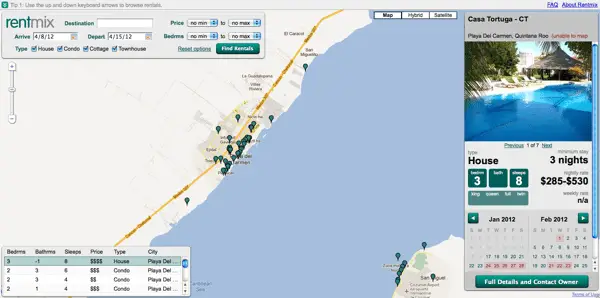 Hovering over a pinpoint will list the details of the house on the right. Information such as price, availability, and bedrooms will be listed in that box. To contact the owner simply click "Full Details and Contact Owner" which will direct you to one of the vacation rental sites I listed above where Rentmix takes its information from.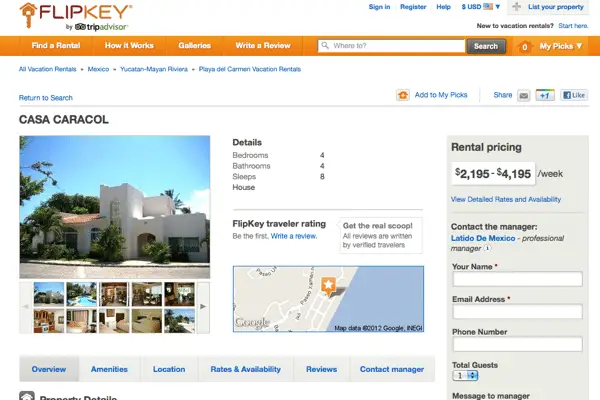 Once you are directed to the "full details" page you can fill in your contact information and make an offer to the owner just as you would normally.
In the past I would search all of these sites one at a time because sometimes you will see different prices or dates available. So I still recommend crosschecking once you decide on a house. But to get an overall idea of what you are looking for use Rentmix.
TripHackr Tip:
Check out my post on How to Rent A Home Abroad