Imagine this: You're seated comfortably in your vehicle; a gentle breeze is playing with your hair and the open road beckons with untold adventures. Welcome to New Zealand, a realm of breathtaking landscapes, verdant hills, and serene lakes.  
Undertaking a road trip here means marveling at the diverse sights the North and South Islands offer, each with unique charm and experiences. Whether you're seeking majestic fjords or stunning volcanic landscapes while taking advantage of what campervan rentals offer, this guide assists in crafting your ideal NZ road trip itinerary. 
North Island: A Geothermal Wonderland 
Start your journey on the North Island, renowned for its active volcanoes, vibrant cities, and beautiful beaches. Auckland, the largest city, serves as an ideal starting point, boasting diverse cuisine, stunning harbors, and attractions like the Sky Tower. Heading south, the enchanting Hobbiton Movie Set awaits, allowing you to delve into the magical world of Middle-earth. 
Venture further to discover Rotorua, a geothermal marvel teeming with bubbling mud pools and geysers. This city is also a hub for Maori culture, offering immersive experiences that provide insights into the rich traditions of New Zealand's indigenous people. Traditional Maori feasts, ancient ceremonies, and enchanting redwood forests are at your fingertips. 
Don't overlook Wellington, the capital city buzzing with a compelling mix of culture, history, and cuisine. Explore the innovative Wellington Museum, stroll along the vibrant waterfront, and relish the bustling food scene before boarding the ferry for a picturesque journey to the South Island. 
North Island: A Haven For Adventure Seekers 
For the thrill-seekers, the North Island is your paradise. It offers many adventure activities, from skydiving in Taupo and exploring the glowworm-studded Waitomo Caves to surfing the waves at Raglan. Each activity furnishes a unique adrenaline rush against the backdrop of New Zealand's diverse landscapes.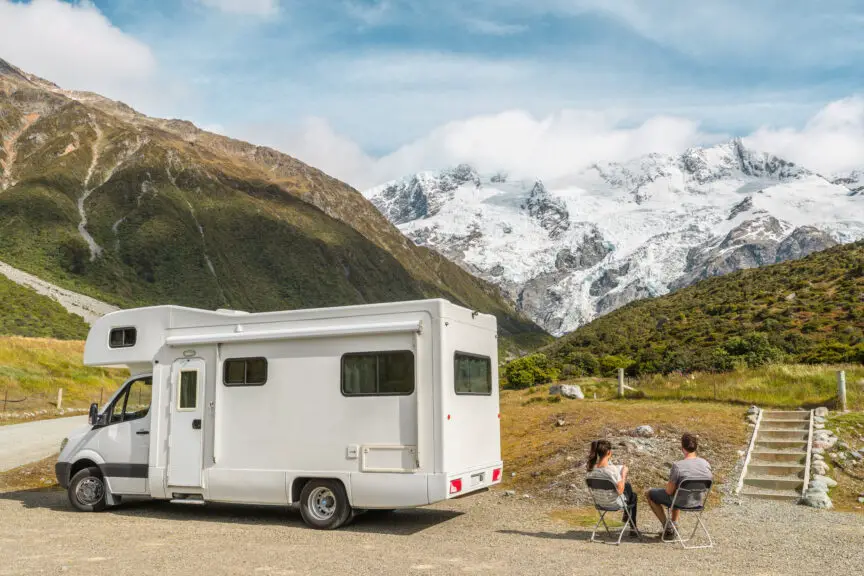 Navigate to the Coromandel Peninsula for a serene escape into golden beaches and lush rainforests. Here, hiking trails lead to Cathedral Cove, a picturesque beach enclosed by massive rock arches, or unwind at Hot Water Beach, renowned for its naturally occurring hot springs beneath the sand. 
Conclude your North Island exploration with a visit to the Bay of Islands, where azure waters and subtropical weather create an ideal setting for water-based activities like kayaking, sailing, and dolphin watching. The rich marine life and the historic Waitangi Treaty Grounds enhance your journey with excitement and learning. 
South Island: A Panorama Of Natural Beauty 
Transition to the South Island, where unparalleled natural beauty awaits. Begin your exploration in Nelson, a sun-soaked city known for its arts scene and surrounding wineries. Heading south, the pristine beauty of Abel Tasman National Park, a coastal paradise with golden beaches and clear waters, serves as a refuge for kayaking and hiking. 
Delve into the heart of the Southern Alps at the iconic Aoraki/Mount Cook National Park. With its towering peaks and crystalline lakes, it offers serene yet exhilarating experiences, whether it's through hiking, stargazing, or exploring the Tasman Glacier. The tranquil settings and panoramic vistas are sure to captivate your senses. 
Unravel the mysteries of Fiordland National Park, celebrated for its majestic fjords, dramatic waterfalls, and dense rainforests. Milford Sound and Doubtful Sound are must-visits, each presenting cruises through towering peaks and cascading waters. A boat ride here unveils this natural spectacle's raw beauty and diverse marine life. 
South Island: An Encounter With Adventure And Wildlife 
Queenstown, nestled in the South Island, is revered as the adventure capital, offering thrilling experiences like bungee jumping, jet boating, and skydiving. In winter, the surrounding mountains transform into a playground for snow sports enthusiasts. 
For wildlife enthusiasts, the Otago Peninsula is indispensable. This region affords intimate encounters with rare, yellow-eyed penguins, royal albatross, and fur seals in their natural habitats against tranquility and lush landscapes. 
Complete your South Island exploration with a journey to the rugged West Coast. Explore Punakaiki's Pancake Rocks and Blowholes, traverse dense rainforests, and encounter glaciers like Franz Josef and Fox Glacier that uniquely extend into temperate rainforests. 
Recommendations For An Unforgettable Journey 
When planning your road trip, consider both islands' diverse experiences and prioritize according to your interests, whether they lie in adventure, scenery, culture, or cuisine. Allocating time to absorb the environment and engage with the locals can add invaluable insights and memories to your journey. 
Choosing the right season is crucial. Summer brings warm temperatures ideal for beach outings and hiking, while winter transforms the landscapes into snowy paradises, excellent for snow sports and appreciating serene, icy scenery. 
Lastly, ensure your journey is unhurried. The diverse landscapes of New Zealand are most enchanting when savored slowly, allowing time for spontaneous detours and unforeseen discoveries. A flexible itinerary ensures you extract the essence of your New Zealand road trip. 
Conclusion 
Embarking on a road trip through New Zealand's North and South Islands assures a journey of a lifetime. From the geothermal wonders and vibrant cultures of the North to the breathtaking natural spectacles and thrilling adventures of the South, every moment is laden with discovery and enchantment. The journey isn't just about the destinations but the myriad of experiences that linger in your heart long after the trip concludes.