Managing all of your rewards and frequent flyer accounts can be challenging to keep track of. Award Wallet works great for keeping track of almost everything but it does lack in one area that Superfly excels in. That is the flight search and miles valuation department.
Here is what I mean. First get started by signing up and selecting all of your frequent flier, hotel, and car information (credit card rewards are in beta). Once you have selected your programs you will be asked to login to each of those accounts via Superfly to access your information.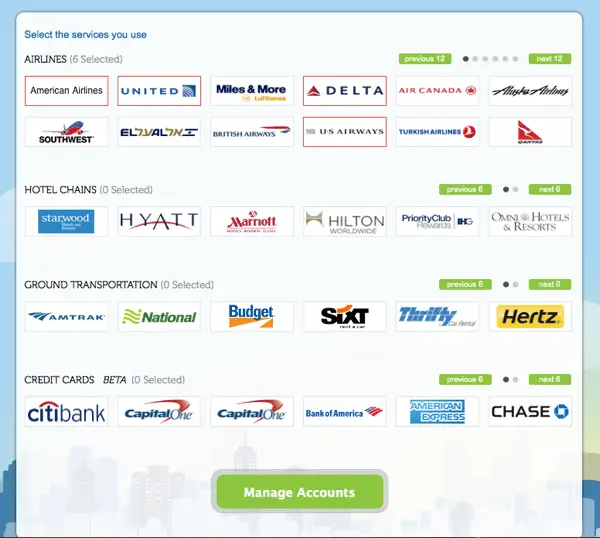 Now you can do a flight search and see what your hard earned miles and points are really earning you.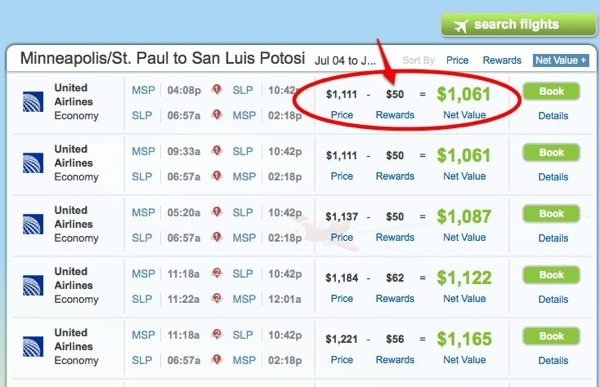 You can see based on the miles you would earn for this flight how much you will earn in rewards. It is a nice way to visualize a flights actual worth to you.  A key difference between Superfly and Kayak is that Kayak searches by price and Superfly takes your preferences into account before sorting by the best value for you. You can also search by price just by changing it in your search.
How Does the Value Search Work?
Given your reward programs and elite status Superfly will find the best value flight. Superfly calculates this value by multiply the flight's distance by your personal base value of a mile. We then add class of ticket and elite multiplier and any extra miles relevant due to airline minimum benchmarks per leg.
How does Superfly calculate the value of my miles?
The value of your miles starts with the base value of a mile per airline. From there on Superfly looks at personal data which depends on the number of miles you have together, with a variety of criteria like how you use your miles (upgrades vs. tickets) and how much flexibility you have with your travel dates.
How does Superfly calculate the value of a flight?
The value of a flight includes your personal rewards so that you're seeing not only the cost of the ticket itself, but also the benefits. It may also include additional costs like getting to/from the airport, checking in a suitcase and the benefits of earning more miles or maintaining your elite status. Our goal is to calculate all your costs and benefits and exhibit them in one single number.
Full list of FAQs here.
This is definitely an interesting way of booking a flight because it takes your reward programs into account in the results. Keep in mind this might not be the cheapest option out there but maybe it is the best for getting you to that next mileage tier. Superfly is a great place to reference when you are booking flights in the future and is definitely going to be one of my first stops.