I had the chance to chat with Don Wildman, better known as the host of the Travel Channel's Mysteries at the Museum. I spoke with him just off his trip to the Great Smoky Mountains National Park where he celebrated the National Park Service's 100th anniversary with Friends of the Smokies.
I have been a huge fan of Don's work for a long time. Cities of the Underworld is one of my all-time favorite shows and he now hosts Mysteries at the Museum on the Travel Channel. On the show he uncovers the truth of our nations past as he crisscrosses the United States and dives deep into it's rich history. The show truly turns the ordinary into the extraordinary as Don paints the story about America's most interesting events.
Don is an all-around adventurer and history buff which was why I was excited when I had the chance to ask him a few questions about the series and his travel experiences. Let's get to know Don a little better.
Triphackr: You call yourself the "go-to guy for no-go places." Have you always had an interest in the off-limits and unknown?
Don Wildman: Well, don't most people? It's one of those common denominators:  we all want to know what's "out there." My particular fascination about "off limits" places comes from feeling like I missed the party. I was the youngest of a bunch of kids and growing up in the 70s, I constantly felt like I missed all the hoopla and heroics of the decades before. As an adult I'm always circling back, trying to piece together a puzzle in my head about what I missed out on. It frequently (or preferably) involves crawling down a hole.
Triphackr: You're from a small town in NJ and now you've traveled the world. How has that shaped you and how important is it for Americans to travel?
Don: In my opinion, those Americans who can afford to do so have a responsibility to travel. For people all over the world, our country is about freedom from oppression—it's both a symbol and a reality. As such it is vital that Americans know other lands and what our unique and profound role is in this world.  Personally, I believe we are presently suffering from a fearful isolationism in many quarters. Travel—the joy of discovering what travel means—is the antidote to this cyclical trend in our society.
Triphackr: Did you have any experience exploring National Parks growing up?
Don: I spent my youth sleeping on the floor of our family tent trailer, all up and down the eastern seaboard. The biggest trip we made was to the Smoky Mountains via the Skyline Drive in the Blue Ridge Mountains. First time I saw a bear.
Triphackr: What is your travel style? Do you plan your adventures or do you let them find you?
Don: I'm really one to arrive in a place and dive in. Guidebooks are helpful, sure—but nothing works better for me than to lose myself in the streets, to literally get lost and then find myself in some fabulous square on shoreline. I'll later find out that this is THE PLACE to go—well, it was better to stumble upon it.  Yeah, I don't plan much at all. What's the point? So what if I don't see everything? Everything…it's overrated. I'd rather have an experience of my own.
Triphackr: In "Mysteries at the Museum" you take viewers across the U.S. uncovering our nation's past.  What's the most interesting piece of U.S. history you have unearthed?
Don: Mysteries at the Museum has been a success mostly because of its inclusiveness. No museum too big or too small. What's truly most amazing to me? THE NEVER ENDING AMOUNT OF MUSEUMS. It's incredible how many institutions we've covered! Most amazing history? I like the Western Expansion best of all. I like cowboy stories, the sense of an unbridled west.
Triphackr: What's the biggest unsolved mystery you've come across that you'd like to see solved?
Don: I'd sure like to know if it was really Oswald who shot JFK. (I have my doubts.) I was also pretty persuaded by an UFOlogist that in the summer of Roswell there were a whole raft of reports that…seem like they really happened (he showed me the newspapers).  But my favorite mystery? What happened to those pilots over the Bermuda Triangle. It's just so full of contradictions.
Triphackr: One thing I love about museums is how specific they can be to someone's hobby or passion. For example, I visited a chateau in France filled with a collection of motorcycles inside and old airplanes outside. Do you have a favorite museum from your travels that contains obscure collections or peculiar items that you really enjoyed?
Don: The older I get, the more I collect. It must be a condition of age and realizing you only have so much more time left…so you start hoarding. Yeah, I have a favorite in this regard: The Christopher Sanderson Museum in Chadds Ford, PA. Sanderson was a favorite of the Wyeth family and when he died it was revealed how much Americana ephemera he'd stashed into his house. They led the effort to memorialize his life and preserving his random collection. In the house where he lived his entire life!
Triphackr: What is your favorite museum city in the world and your favorite museum overall?
Don: My favorite museum city is London. The museums are supported by the government and the collections are vast. You're immersed in artifacts from everywhere in the once-vast British Empire.  Favorite museum there is impossible to say….but I enjoy my visits to the Tate Modern in particular.
Triphackr: You create an element of intrigue that makes the ordinary seem fascinating. What advice can you give travelers to make a visit to a museum more exciting?
Don: My advice for museums is the same as my advice for life: know what you're looking for, have a focus. It's hard-won advice from a guy who went without it for too long. Nowadays, I understand the value of "less-is-more" and, as applied to museums, how this can make the average visit a more rewarding use of energy. Go to an art museum to look only at paintings from, say, the Luminism Style of the 1850s.  Concentrate on Pterodactyls at the Natural History. At the local technology museum, seek to understand how Tesla discovered alternating current. You'll feel much better grasping a few things well than feeling overwhelmed by too much. Have a goal in mind when you approach a museum and you'll leave, wanting to come back again.
Triphackr: You've hosted some amazing shows about travel and adventure. From ESPN's Men's Journal to Cities of the Underworld you seem to have a passion for discovering the unknown and adventure. What has been your most exciting trip and what is the number one place you would still like to visit?
Don: I have repeated this many times at too many cocktail parties: I want to go back to Ethiopia. It is a magical land of great and important history. The people are autonomous and interesting. It's a most fascinating land. But if I was able, I'd leave Ethiopia and jet northward, straight to Istanbul for an equally, if a bit more cosmopolitan adventure in Turkey. My two favs: Turkey and Ethiopia.
As for where I'm yet to go? India. I'm ashamed to say. Can't wait.
Triphackr: According to your Instagram you have a Maine Coon (and so do I). How can you help me convince the world that cats make the greatest pets for travelers?
Don: I wish I had a Maine Coon. The Instagram was of my sister's Maine Coon! Yeah, I'm a fan of nearly every cat I encounter in life, even the haughty ones. Ugh, don't get me started on this subject. I love the way cats look down at us; the way they hold themselves so elegantly. I love communicating them with a delicate subtlety. More than anything, I love being one of those people cats seem to trust. It makes me feel worthwhile.
Editor's note: If a bad ass like Don says cats are cool that ends the debate!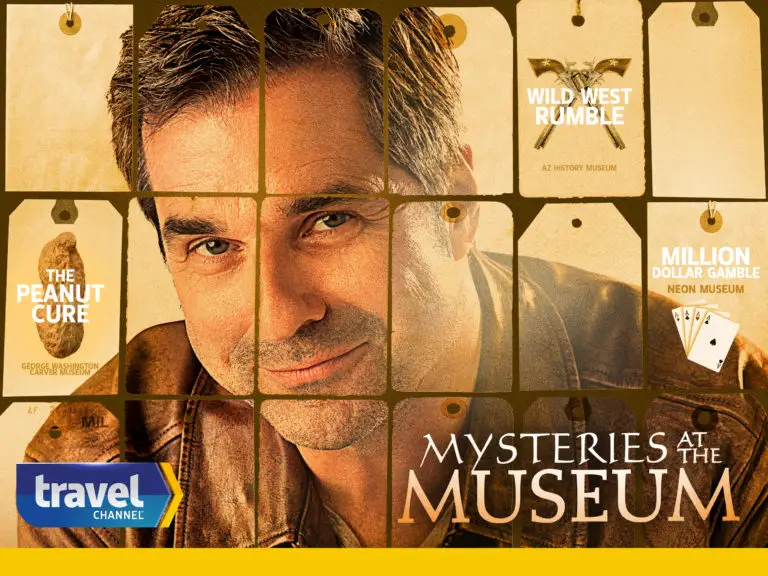 Catch Don on Mysteries at the Museum  on the Travel Channel.
Full Episode Guide available on Travel Channel.
And Learn more about how you can support Friends of the Smokies.