As we know staying fit while we travel is a challenge. Hotel gyms often don't meet our standards or maybe there isn't one at all. This is why no matter where I am I always use my surrounding as my gym. You don't need a gym on the road as long as you are committed to getting a little creative. Whether its doing pull-ups on the temples in the ancient city of Angkor, going a couple rounds with a Muay Thai champ in Thailand, or just hiking the pyramids of the Maya there are an infinite number of cheap or free methods to stay in shape while traveling.
I recently traveled to Northern Tanzania to go on Safari and I knew there were not going to be any gyms near by. I was staying in anything from lodges to a simple tent camps on the Serengeti plains. I didn't want to fall back on any progress I had made in the gym before leaving for East Africa so I had to get creative to get in a workout every day. Here is how I staying in shape the plains of the Serengeti:
Take advantage of any opportunity to be active 
Often our routines are disrupted when we travel so it is important to take any opportunity you have to get some exercise. On my way to Serengeti National Park we got a flat tire in just about the middle of nowhere.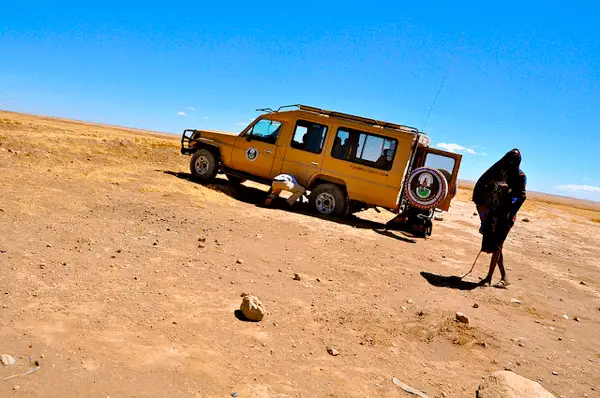 Since our guide, Othman, was an expert in this field he told me he didn't need any help. What did I do? Busted out my Pushup Warrior app! I reviewed this app in the past and I have used it ever since. It is the easiest way to find some quick and effective workouts to do no matter the location. Check it out if you haven't.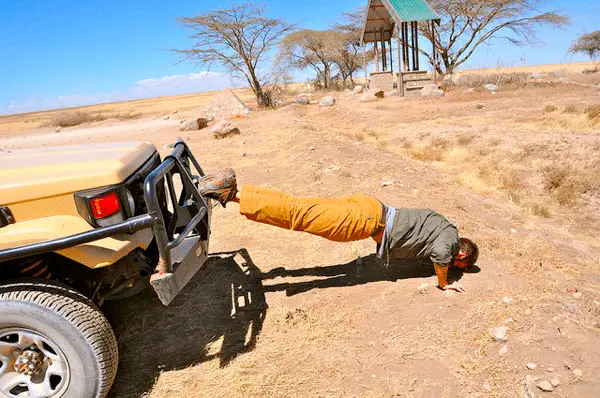 I spun the wheel on the Pushup Warrior app and executed a few sets of decline pushups on the front of our truck. It doesn't take much to get a quick workout in plus its a lot of fun to workout in unusual places.
Use your surroundings and body weight in your workouts
This carries over from using your surroundings but you do not need anything more than your body to execute a solid workout. Again, I used the Pushup Warrior app to do a few sets during our lunch break. This has got to be one of the best places to do a set of pushups.
The top of this hill in the Serengeti was built for an outdoor workout. I used this branch to do a few sets of pull-ups before lunch. I always take advantage of my surroundings especially in a place as amazing as this.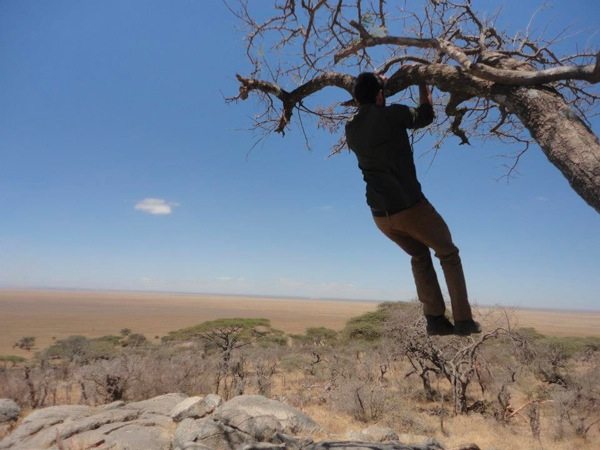 See the world on foot
Any time I arrive in a new city there are tour buses or local guides willing to show you the city by vehicle. Avoid those and stick to your feet no matter what. Sure it is tiring on foot but discovering a city on your own is rewarding and better for your health. On my safari I was in the truck around 90% of the time. I took whatever opportunity I had to get out and explore on foot when it was safe to do so.
Leave that vehicle behind and see the world on foot.
Another great way to get in some exercise is to go for a hike. When I returned back to Arusha after the Safari I visited some small villages up in the hills. Hiking these is harder than it looks and is a great way to see new a new place. After this brief hike I also realized I may need to do some actual training before hiking Kilimanjaro 🙂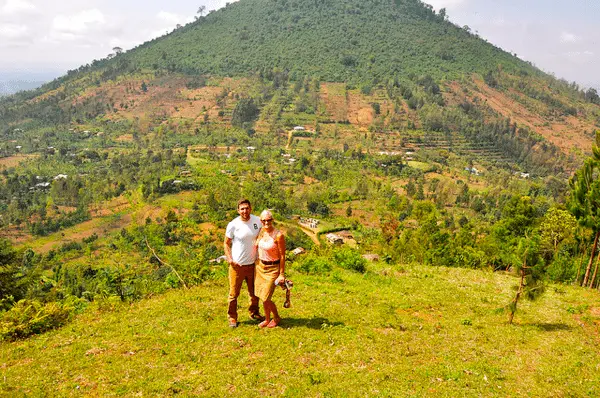 Tanzania is an amazing place. No matter where I travel staying fit is important because traveling becomes harder with age. This is why I make staying fit a priority no matter where I am in the world. Otherwise I may miss out on having the opportunity to see these Lions and snapping their photo.