Join Delta SkyMiles Dining and earn 1,000 bonus miles after your first $25 spent at participating restaurants. To get started sign up here. You have to be a SkyMiles member already as well because they will ask you for your SkyMiles number during the sign-up.
Next, they will ask you to add a credit card. It is 100% free to participate but they need to have the card on file to be notified when you have made a purchase at a participating bar or restaurant. You can add up to 5 cards and they don't have to be Delta cards either. However, you should always use a card with rewards when possible to maximize rewards for what you are spending already.
How it Works
Sign up, and provide them with a valid email address. That is the first step to earning 3miles/dollar spent instead of just 1mile/dollar.
Add any credit card on the site (up to 5)
Search on their site to see which restaurants near you are participating
Use your card at the participating venue. That's it.
The Delta Dining site will save your address and allow you to search anywhere within 30 miles of your starting location. From here you can find out what kind of bonus miles you could earn (if any) and if they have any additional rules. Some will only give out so many miles per month.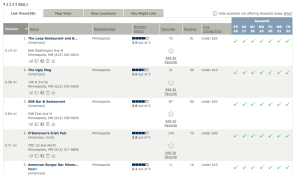 Take a look at an example of a Rewards Calendar. Some places may offer more on select days for dining. They may also include other rules of their own.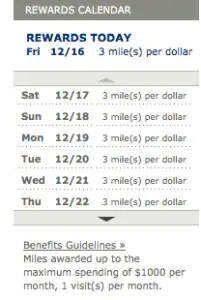 Become a VIP
To become a VIP is simple. You must dine 12 times at qualifying locations. After that you will receive special VIP promotions and 5 miles/dollar. So if you are dining out, enjoying a happy hour, or buying a round of beers at the bar you will add to your miles. It's another way to be rewarded for something you are already doing.
1,000 Mile Bonus
New members will rewarded with 1,000 bonus miles after their first $25 spent at a Delta Dining partner. And afterwards must complete a survey about the restaurant. Its pretty simple and worth your time. Immediately after sign-up you should receive an email about this.
Other ways to Earn
You can also earn from Delta's "Hot Deals" and Reward Surveys. Once you are a member you can check these out to see if there are any participating in your area. Just look for the "Bonuses" tab on the home page.
Membership Chart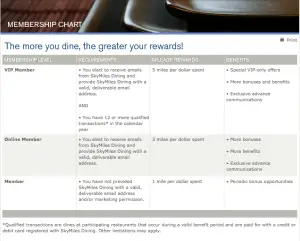 Sign up for Delta SkyMiles here. Nothing beats earning miles for eating and drinking.
Still have questions about the program? Check out the Delta Dining FAQ.